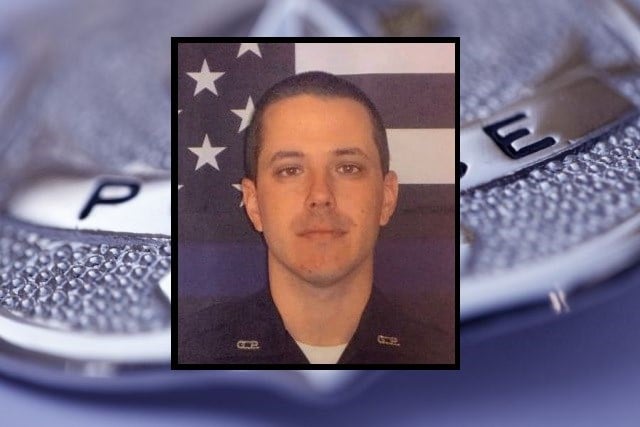 GIRARD, Ohio -Oct 22 2017
Police have identified the officer killed after a shooting in Girard Saturday night.
Police say that 31-year-old Justin Leo died at the hospital after being shot by a suspect in a home at 408 Indiana Ave.
The suspect, whose name has not been released, allegedly shot Leo and was then fatally shot by another officer and died inside the home.
Neighbors said they heard the gunshots around 10:15 p.m. Saturday.
Several agencies across Trumbull County responded to the incident, including Liberty police and the Trumbull County Sheriff's Department.
The Ohio Bureau of Criminal Investigation held a press conference early Sunday morning and announced that they are still looking into the circumstances surrounding the shooting.
Police were called out to the home in reference to a domestic situation involving a firearm, according to BCI officials.
According to radio traffic, the suspect had several firearms inside and had been drinking all day.
They say as officers approached the home, officers had a brief conversation with the male inside.
"Initial reports indicate the man pulled a gun and shot a Girard police officer. The second officer returned fire and the male inside was hit and pronounced dead at the scene," said BCI Special Agent James Ciotti.
Girard Mayor Jim Melfi was also present at the press conference.
"Justin Leo was a young man I knew most of his life. An absolute gentleman and someone who the city has been proud of since he had been here with us. Our communities, prayers and thoughts go out to Leo's family," said Mayor Melfi.
Arron Wayland lives across the street from the home where the shootings took place and witnessed the entire incident.
"Out of nowhere, one shot rang out," said Wayland. "And then immediately, three more shots. "
Another witness, Judy Worley who lives nearby, said she watched as crews tried to save the police officer.
"They rushed the officer to the hospital in an ambulance," stated Worley. "They were giving him CPR".
Leo was a five-year veteran of the Girard Police Department.
Police say the identity of the suspect is being withheld and will be released by the Trumbull County Coroner's Office.