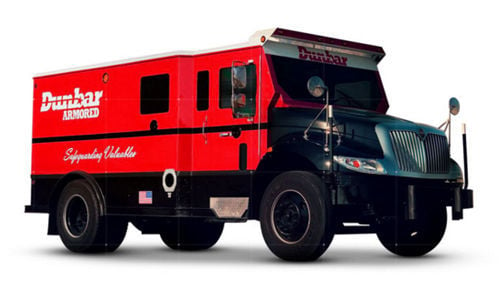 ST. LOUIS MO April 19 2017 A former employee of Dunbar Armored Car Co. and his accomplice in a 2016 robbery that netted more than $2 million were each sentenced Tuesday to nearly 12 years in prison.
Former Dunbar employee Shayne Kier Jones, 30, and his cousin, Charles Johnson, 36, pleaded guilty in December of a gun charge and conspiracy to interfere with interstate commerce by threats of violence.
On the day of the robbery, Jones told the truck's driver that he would take the wheel for the trip back to Dunbar, prosecutors said. He then decided to stop for gas and acted lost, stopping the truck at Antelope Street and Switzer Avenue in St. Louis, northeast of Calvary Cemetery, they said.
Johnson and another man appeared and demanded money at gunpoint.
A grand jury in January accused Jerry Bean, 25, of being the other robber. Bean has pleaded not guilty to the same charges faced by Jones and Johnson.
Bean told investigators that the heist was Johnson's idea, prosecutors said.
After the robbery, Bean and Johnson laid out the bundles of cash and did a rough three-way split, FBI Special Agent David Herr testified during Johnson's sentencing hearing. The men filled duffel bags and suitcases with cash, then left, Herr said. One bag ended up with Johnson's girlfriend, Herr said, who spent some of the money before turning the bag over to investigators with $213,000 inside, Herr said. Assistant U.S. Attorney Tom Mehan suggested that others in the neighborhood might have "dipped in" to the bag as well.
Investigators recovered $518,193 from two of Bean's friends, who had been given it for safekeeping, Herr said. The other money has not been recovered.
Mehan said that Jones spent $18,000 of it within eight days of the robbery.
Jones' former colleague spoke at both men's hearings, saying that the robbery caused stress for himself and his family. He said Johnson pointed a gun at him and recited his name, his pregnant girlfriend's name and his address, all supplied by his partner, Jones. The driver worked with Jones for six months, and said that he had opened up to his partner during that time. "He used that against me," the driver said.
The men had also tried to rob the armored truck two weeks before the actual crime, according to court testimony.
Both Johnson and Jones apologized to the driver, Dunbar and their families.
Johnson lawyer Daniel Juengel asked for a seven-year sentence, citing his lack of a criminal record and his strong family support.
Jones lawyer Adam Fein also asked for a break, mentioning Jones' six years of service with the Navy and his lack of any prior arrests or convictions.
But U.S. District Judge Catherine Perry rejected that, telling Johnson that he was "lucky nobody was killed."
In addition to the 141 month sentences, the men were ordered to repay $1,283,980.